Affiliate Marketing in South Africa is still in its infant stage but there are many internet savvy entrepreneurs who are making money by taking advantage of it. Online shopping locally is going through a boom phase thanks to the reduction of mobile data prices. With this growth comes innovation and new business opportunities.
Affiliate marketing has been around since 1994 and over the years has become one of the common marketing strategies used by online retailers and marketplaces. In countries such as the USA and in Europe, many internet entrepreneurs have been doing affiliate marketing for over 10 years as a primary source of income.
Thanks to the proliferation of the online use brought about by the introduction of smart phones, affiliate market is still growing globally and is being introduced to more developing countries where widespread internet use is only a recent phenomenon.
#1 Highest Paying Affiliate Program in South Africa
What is Affiliate Marketing?
Affiliate marketing is the promotion of the products or services of a retail store or service provider in which the marketer gets paid a commission when their referral buys the product within a certain period. There are 3 players in this relationship, namely the advertiser, the publisher, and the consumer
Advertiser – This is the party who is selling the product and is offers a commission to affiliates who generate sales fort them. This is done through registration of an affiliate program in which each affiliate is given a unique affiliate ID or code that identifies them as the referrer when the consumer makes a purchase.
Publisher – The publisher is the affiliate to the advertiser. This is YOU. As a publisher you will have an audience that you market the products to and earn a commission.
Consumer – The most important party in the process. They have the money which makes the affiliate marketing world go round.
Why Should I Be Interested?
With affiliate marketing you can promote any product or service online without having to own or handle the product. The only thing you have to do is drive traffic to that product. You do not have to worry about handling, shipping, or support after purchase.
You can focus on content creation and helping people through your marketing platform, and then send them off to purchased product that they need and will benefit them, and you will earn a commission as a result.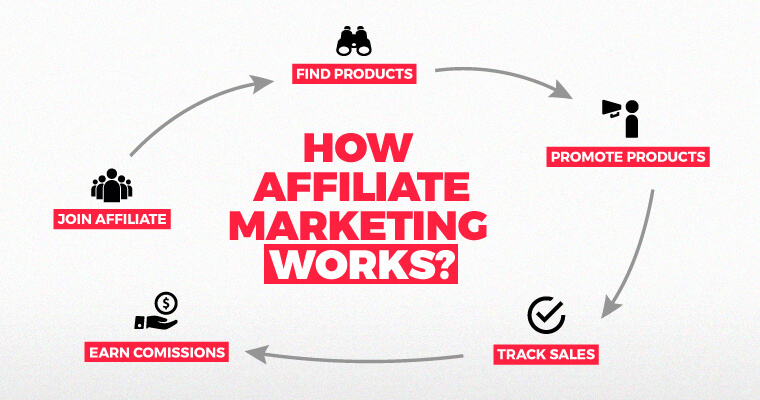 Looking at the international trends as an example, a lot of major retailers in the US have affiliate programs. Household names such as Walmart and Best Buy allow creators to make commissions from these referrals.
Related Article: How To Start an Online Business
Affiliate Marketing In South Africa
In South Africa, our major retailers like Pick n Pay and Game have only, in recent years moved into the space of online shopping and do not have affiliate programs. But as more and more people adopt online shopping and become acquainted with online practices, it is a safe assumption that our major retailers will eventually offer affiliate programs of their own.
If you are a content creator with an audience that is primarily South African, there are a few companies that have good referral programs like Zando, Loot and Raru.
The South African market for affiliate marketing is small so for those starting afresh in affiliate marketing it would be best to target an international audience. To succeed in this, the correct information goes a long way.
How to get into Affiliate Marketing
Getting in to affiliate marketing is a relatively simple process which is as easy as registering your personal and website details on a given program.
To do affiliate marketing successfully requires  a lot of thought and strategy. Affiliate marketing isn't just the dropping of affiliate links on your social platform or website. Successful affiliate marketers give their audience solutions that they were already looking for.
Of the training resources I have experimented with, the best is Wealthy Affiliate. If you are new to affiliate marketing, they are definitely worth a look. They have a free starter member ship that serves as an excellent training, especially for beginners. You can sign up for their free member ship to get access to training and step by step videos.
  #1 Recommended Affiliate Marketing Platform
How To Make Money With Affiliate Marketing
Some of the key concepts you need to know, that make the difference between marketers who make money and those who don't are discussed next.
For your affiliate marketing efforts to convert well in to sales, they have to be relevant to your brand and to the reason that your audience listens to you. For example, if you subscribe to a YouTube channel of a comedian, if they were to market insurance to you, you would not be very trusting of them because that is not what you consider them to be experts at.
At the very same time, if I am watching someone's videos because I want to have a laugh and be entertained, if they try to sell me life insurance, I would not buy into it because that is not what I am looking for at that moment. In all likelihood, that attempt would negatively affect my experience on their channel and possibly cause them to lose me as a subscriber.
This is the importance of relevance. As a successful affiliate marketer, your audience is already looking for what you are marketing to them and you are pointing them in the right direction. You provide them with a helpful service with something that they trust you as an authority in.
So if have a following and fashion is your niche, you would promote items from an online fashion store. If a lot of your posts are related to fitness and health, you can promote health supplements and even home gym equipment.
Choosing What To Promote
There are a few things to consider when choosing what products to promote, that will have a direct effect on how much money you make.
Commission Rate
Different types of affiliate programs pay commission rates that vary from as little as 2% up to 80%. The ones that pay on the low end are established retailers and online marketplaces that sell mostly physical products. These products are usually easier to sell because of the trust that comes with the brand of the retailer.
On the high end of commission rates you will find a lot of digital and information products. These can pay out up to 80% because they have no overheads. Once an information product is digitized, a copy that you sell to someone is but a few clicks of a button. These products also tend to be not as easy to sell as the aforementioned products from trusted brands.
Product Price
Affiliate programs pay a percentage of sales generated. As a result, you want to give consideration to how much you are making for your marketing efforts. For example, let's say that the advertiser is paying 5% commission for sales generated. If you are promoting a R100 product then you only get a R5 commission. With higher ticket items like a laptop or a flat screen TV that's worth R10,000, you can get a commission of R500. While that seems like an easy choice, which one you can do will often be dictated by relevance to your niche.
There are also instances where the R100 product is a better strategy regardless of relevance. The lower price products tend to be bought in higher volumes so if you have a huge amount of traffic, high volumes of lower priced goods can work just as well as the higher priced goods which tend to sell in lower volumes and less frequently.
You will be much more successful and have a lot more trust from your audience when you are promoting products and services that are in line with the content that you create.
This is highly beneficial if you have a website because if your article is on Google's first page, you can get referrals from one post that can last you for years. It is commonplace for a website article that you write today to be generating traffic and sales for you two years later.
What Do The Affiliate Programs Want?
You can join as many affiliate programs as you want. Being part of one program does not preclude you for joining the affiliate program of a competing brand, for instance. What you should take care to do is that your content and brand is a good tie in with the brand of the advertiser whose affiliate program you want to join.
Certain brands that have a reputation to uphold, for example Adidas or Nike, are a bit more selective with who they allow on their affiliate programs and if you want to promote for them you must improve the profile of your brand and marketing platform as much as possible for the best chance of promoting their products.
Affiliate Marketing Companies In South Africa
An affiliate network is an entity that manages the affiliate programs of a collection of companies. They pool a bunch of programs into one system and do the affiliate tracking, payments and general administration on behalf of the companies who want their products and services advertised.
As an affiliate, it allows you to join one programme that will give you access to tens of thousands of products within one system. That way, if you are doing affiliate marketing of different branded products, you don't have to go and join every single brand's affiliate program individually. This can save you a lot of time and give you access to a wide variety of products and services through one centralised platform.
Which affiliate networks you join, is up to you. You can join one or join multiple if you so choose. For the full suite of programs that are available to you, you have to sign up with the network. Below are the two main affiliate networks in South Africa, and to of the biggest affiliate networks globally.
Offerforge
Offerforge is one of the first two affiliate networks to be established in South Africa, and one of the most popular for South Africans to use. Most of the ads served on this website are through Offerforge and they earn the spot for top recommendation. They have a long list of clients they have worked with that that includes well-known local brands like NetFlorist, Dion Wired and Bidvest to name a few.
AdMarula
AdMarula is the other one of the two first affiliate marketing companies in South Africa. The company was formed in 2011 and, to date, has helped established consumer brands such as Mr Price, Spree (now under the market-leading online fashion store Superbalist) and TravelStart with performance marketing.
They have high profile of the clientele and manually review applications from prospective affiliates. So if you have high quality content and a trusted brand, they are definitely one to have on your list of who to apply to.
Clickbank
Clickbank is the one that is open and does not require sign up to see which programs are available to you. They specialise in digital information products and often pays relatively high commissions on sales. They have products for a lot of different niches.
It is worth noting, though, that as an affiliate marketer working through ClickBank you must exercise diligence when choosing what you promote to your audience. In their business and money-making section there tend to be offers that are in the grey area when it comes to ethics, so to maintain your reputation with your audience, ensure that you are providing quality recommendations.
CJ Affiliate
CJ Affiliate is one of the best affiliate networks on the internet and is worth keeping on your radar if you cater to a global audience presently or intend to do so in the future.
They have many of the world's most popular brands and, as a result, do require a certain level of quality from those who market from them. You should have your website in place with sufficient quality content because they review the websites of all applicants before approval into certain affiliate programs.
You should never have to pay for membership in an affiliate program. All legitimate affiliate program are free and any advertiser charging a fee for registration is one that you should avoid.
Affiliate Marketing Programs in South Africa
There are tens of thousands of affiliate programs that a marketer can promote products for. There is an affiliate program for virtually every product that exists. If you serve the global market there are countless options. In South Africa, there are still some innovative companies that are leading the way on this front and more will pop up as more and more people adopt online shopping.
Options of popular marketplaces that have affiliate programs are Zando, Raru and Loot. Businesses that offer affiliate programs that are more niched down are Mantality and Urban Zulu. Takealot is the leading online store in South Africa and they do not have an affiliate program, which is unfortunate. But as the affiliate marketing model takes hold in South Africa, and other companies see the growth through this model, we can expect companies like Takealot and the big retail companies like Pick n Pay, Shoprite and Spar to adopt the model or get left behind.
Can You Do Affiliate Marketing For A Living?
Done right, affiliate marketing can be a very lucrative and sustainable business. You can definitely create a full-time career out of it. It is a business method where don't have to deal with a lot of the headaches of running a business. The key selling point for many would be that you can do it from anywhere, so long as you have a laptop and access to the internet.
Like any other profitable endeavour, it requires a lot of work in its own way, mainly in the form of learning how to drive traffic and to regularly publish high quality engaging content for your audience. Once you understand how to drive traffic, the sky is the limit in terms of the number of products you promote and the revenue that you can generate from that.
How Do I Start?
Affiliate Marketing is a straightforward business model. When you have a following that can constitute traffic, it is a simple matter of directing that traffic towards the products you are marketing.
Like any other business, in order to maximize your earnings and make it a sustainable venture, you must know things like how to convert your audience into buying your products. You also have to market to your audience in a way that will be natural and not chase them away. Wealthy Affiliate teaches you all the fundamentals that you will need to market successfully.
If you are just starting out with affiliate marketing, sign up for the free starter membership. It will teach you everything that you need to know about affiliate marketing and how to run your online business successfully.
If you already have a social media following or a website with a substantial amount of traffic, you can start by jumping right into one of the aforementioned affiliate programs. With an engaged audience you can make money from as soon as your affiliate membership is approved.
Frequently Asked Questions
Do I Need To Know Coding or Computer Programming?
No. You don't need need technical skills like coding or programming to be an affiliate marketer. All you need to have are basic computer skills. And since you are reading this article, that means you already have those. All you need is the willingness to learn and to work on your affiliate marketing business consistently.
How Much Can Money Can I Make With Affiliate Marketing?
That is the million dollar question that only you can answer. How much you make from affiliate marketing depends on how much work you put into your business. It is not unusual to make more than R50,000 within the first year after starting from scratch if you put in the consistent work. There are people earning more than R300,000 a month and also people not making any money at all because they don't work on their business. It all depends on you and the effort you put in.
Do I Have To Chase After Or Recruit People?
The most appealing thing about affiliate marketing is that you don't have to do any active selling. So no harassing family and friends trying to get them to buy into things they are not interested in. All you have to do to make money online is to create content about whatever your passion is. Once your content gets ranked in the search engines, the traffic will come to you. You don't even have to leave your house or contact anybody else for any reason.
Is Affiliate Marketing Like Network Marketing?
No. Network Marketing and Affiliate Marketing are not related.  Network marketing, involves direct interaction in a personal capacity between the marketer and the customer. Affiliate marketing takes place in a digital space, and does not have to be done in your personal capacity. The most important difference between them is that with network marketing, you have to go to your customers. In Affiliate Marketing, your customers come to you through your online platform.
A Lot Of People Know About This. Is It Too Late To Get In?
Affiliate Marketing is very new in South Africa. For example, the USN and Mr Price programs were only introduced in 2019 and new companies are introducing programs all the time. Also, it's never too late to join Affiliate marketing. In USA and EU, affiliate marketing has been around for more than 10 years. And since it's so new in SA, it's still going to grow for years.
Do I Have To Stick To South African Affiliate Programs?
No. You can promote products from anywhere in the world. The internet has created a global marketplace and you can sell and market to any other place in the world?
How Do I Get Money From Other Countries Into South Africa?
Most affiliate programs will pay out in either Payoneer or PayPal. Just check that the program is using one of these. All you have to do is sign up for each one and your commissions will be payed out into your account and you can easily withdraw the money into your local bank account.
---
Have you worked in Affiliate Marketing in South Africa before and have your own review to share? What affiliate marketing programs do you know of that South Africans can use? Let us know in the comments below.